Dear Blogworms, Old and New,
Come, let's talk about funnies few! 🙂
Well, those of you who've been reading my blog regularly know that I am a bit of a stickler for the tickler, some laughs, some witticisms and some sheer 'hahaha' madness!
I am the sort of person who prefers to divert herself from her daily stresses and struggles by watching something funny.
I'm sure that I'm not the only one who finds that this is a good way of not dealing with their problems at hand. I am aware that such diversion also presents the risk of not dealing with the problems at all!
But more on that later…
The reason why someone genuinely funny (which is not necessarily 'haha' funny, mind you) can be cathartic – or even therapeutic – is quite simple. If such a person can live with their quirks and foibles, then so can I!
We feel compassion and sisterly affection for Miranda when we see her struggle with social (formal) occasions and trying to be 'lux-ville in love'. We feel a strong sense of empathy for Pete and Sue who are ruffled and baffled by their three kids in Outnumbered. We sympathise with the innocence that a generation gap can bring about between parents and children, such as in Mrs Brown's Boys (plus one vibrant 'Girl – why did they not name this one 'Mrs Brown's Kids' instead?) We identify with the sloppiness, stereotypical and prejudicial thinking portrayed by the characters in sketch shows, such as Come Fly With Me, Little Britain and The Catherine Tate Show.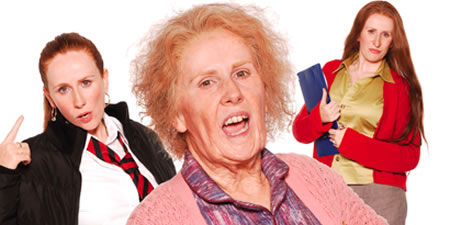 Such sources of comedy have gone on to generate staggering commercial successes because of the strong senses of identification, empathy and perception that emanate authentically from them.
In these programmes, the characters and the situations that they encounter, help us find relief from our own daily striving. More importantly, reassurance can be found by watching them in that we are a) not alone in our suffering, b) more capable than we think we are and c) that we're actually doing just fine – even if we think we're not!
You see, human perception is very powerful – it can make us keel over with anxiety, freeze with fear and it can also make us emerge from so-called 'dead-end' situations, bruised but wiser.
Ken Sanes, is a US-based journalist and founder of Transparency Now, a website that focuses on spelling out what cultural products of mass consumerism (e.g. films, television, etc.) are really trying to say.
In an essay titled: "Situation Comedies and the Liberating Power of Sadism" Sanes observes that sitcoms "draw us into a more modest world, descended not from mythology, and day and night dreams, as is science fiction, but from comedy of manners, vaudeville and our tacit perceptions of everyday life. Their theme is our inability to conquer our petty desires as we go about the minor tasks of the day."
This makes so much sense to me.  When I have money troubles, I stick on a Mrs Brown's Boys DVD to remind me of how one woman raised a family of six all by herself. When I am under the weather, I watch Miranda whose issues with wind cheer me up in a jiffy. When I've had a tiff with my hubby/parents/in-laws, I resort to Outnumbered and chuckle along to what the Brockmans are coping with. When I've had a rough day at work, I switch to The Catherine Tate Show or Little Britain, or Come Fly With Me, where the spot-on ridiculousness reminds me of just how daft and ludicrous the world can be.
At the end of the day – which is when we usually curl up in front of the telly – a sitcom denotes a reason to laugh at the sort of follies we commit.
Sanes deduces this by saying "Between the permission to be imperfect and to know what we know; the interesting characters and situations; the depictions of friendship and intimacy; the commiseration, and happy endings, and, of course, the laugh and the jokes, the message we get is that life is good. That message may be a defence against despair but it is also a liberating truth we need to hear."
This is why I believe that my pick-me-up has to undoubtedly be such wonderful British comedy programmes. Are they yours too?